Join our Community of Revolutionary Youth that are Building a New Civilization!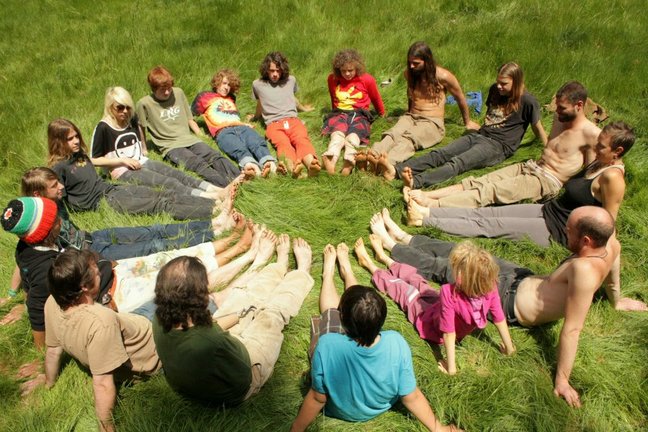 Indigo Medicine Wheel
A Transformational Journey of Connection to Source.

The Indigo Medicine Wheel is a residential program empowering individuals 18 & up to expand their consciousness and reach their full potential. We are also committed to empowering youth by offering weekend workshops on our Triangle Lake Conference Center as well as video conferencing during weekdays for tuning in after school and for youth around the world.

The students will enhance their connection with the natural world, re-establishing their inner guidance systems and aligning with their higher selves to discover their life purpose. This program is a four lunar cycle journey where each phase corresponds with a particular element and animal totem, from which we derive our curriculum. The design of the animal totems, the elements, their order, and the symbolism each plays a significant role in the creation of this transformational experience.

(read about our curriculum in side bar below).
We will be hosting the Indigo Medicine Wheel journey at Circle of Children Village School. 'Circle' was created by the spirit of the indigo child and it requires this indigo nature to bring this dream into fruition. We've designed a program to help indigo youth align with their passions and true selves, giving them inspiration and direction to serve the world. We have created a sacred space to honor and nurture these unique individuals as spirits that have come here to lead humanity to a sustainable and harmonious way of life.This program was designed to inspire and empower the youth to instill great changes on our planet.
Our vision inspires many hands joining together to culminate the power, love, wisdom and unity to create a new civilization.
http://www.circleofchildren.org

2012 was our third year of serving our greater community with
hands-on education.
This year was hallmarked by the donation of a fully developed sixty acre facility. Our property is nestled between Little Lake and Triangle Lake, in the foothills of Oregon's Coastal Mountains. Little Lake and the surrounding one hundred-eighty acres is a wildlife preserve that is owned by the lovely folks that gifted us this gem.
We are inviting world changing organizations to partner with us in the creation of this Sustainable Education and Living Center. We are also growing an Alternative School for children, that will be a model for a sustainable education system.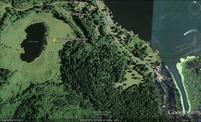 Lake View Lodges, Cabins, and Houses
Circle of Children Village School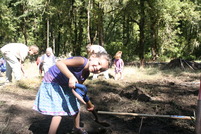 Circle of Children Village School is a non-profit organization dedicated to honoring the spirit of the child by providing an enriched environment for youth to explore their natural curiosities and learn in an organic way. We teach the importance of sustainable living, earth stewardship, creative arts, dynamic leadership and awakening to a heightened state of consciousness while integrating core academic subjects. For example, we teach math, science, and health while growing, harvesting and preparing food and herbal medicines. Children learn reading, writing, and social skills while designing a curriculum and teaching classes on topics they are most passionate about.
We are a growing child-centered village and free school that functions uniquely as a gift economy and is operated by residents, volunteer educators, students and family members. Circle of Children Village School is creating a new educational model that is sustainable, nourishes the spirit, helps each individual reach their full potential and will inspire the world to create a brighter future.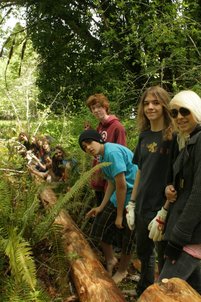 "I've learned more in these last four months at Circle of Children than I have in my entire life. All I had to do is open myself up to it. I'm on board a New Age Mayflower. An environment that fosters health. A place that fosters growth. Land that's abundant in every way conceivable. All I have to do is actualize my potential to absorb and expunge. Action is all there is now. Dreams have to be set in motion sometime. An idea is nothing without action and we're really acting here. All of the resources we need to dive in are here. I'm grateful for everybody and everything that is perpetuating this Divine mission. And it's only the tip of the ice berg. It's time for us to shine our luminous love lights onto the world. If we want to make a change, we've got to embody it. The stage is set. It's time to get the show on the road."
Nicholas Jones – Student at Circle of Children.


Beyond Indigo Medicine Wheel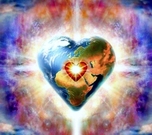 After the four lunar cycle is complete,

Circle of Children will be inviting Indigo Medicine Wheel participants, to continue their journey here as co-founder's of this non-profit organization. We understand not all individuals would be interested in this opportunity at such an early stage of their lives; however we recognize that the current lifestyle most indigo children are living is not serving their divine calling and we see them come alive when discovering our community. For those of you that are interested in continuing with Circle of Children as a co-founder, we will be offering a two year Teacher Training Program that will give you the experience, wisdom, and tools required to build this Global Network of Sustainable Education and Living Centers.
Our Teacher Training Program


Our Teacher Training Program will start on July 12th, 2013. Upon completion of the program you will receive a certificate in Sustainable Village Building, as well as two other certificates in your chosen field of study. You will be responsible for designing, organizing, and manifesting your Teacher Training Program. Our trained staff will assist in this endeavor. You will be inviting masters of your chosen field with whom you will apprentice. Examples of different fields are; Natural Building, Alternative Energy, Community Building, Spiritual Living, Holistic Education, Environmental Action, Natural Medicine, Health and Wellness, Creative Arts, Primitive Skills, Earth Stewardship, and
Permaculture.
One of the reasons this program was designed is to strengthen the foundation of Circle of Children. So far 'Circle' has consisted of two founders that have been working
diligently
to make this village school possible. Both of these founders recognize themselves as Indigo Children. O
ne of them is
Chauce Coxon, a 16 year old male, who will be one of the twelve youth participating and is the director of the Indigo Medicine Wheel. Since we were donated this EPIC conference center in 2012, the dream of our village school is coming to fruition.
We chose to expand our core leadership in order to actualize this global village school model.
If you are interested in being a founder, it is exciting to know that this Village and School on Triangle Lake is a model that will be replicated by these founding Indigo Children. These youth are the captains of this ship and we are going to make
great changes on the planet by growing these alternative schools and sustainable living centers around the world.
We are very enthusiastic about the Indigo Youth that are ready to spread their wings and fly away, making Circle of Children their school, and life work. We are also very excited about those who wish to join us for the four lunar cycle medicine wheel program, as we are honored to be a positive influence in their lives. The Indigo Medicine Wheel will give youth the experience to connect with their hearts, purify their emotions, expand their consciousness, activate their life purpose, and manifest their biggest dreams.
If you are interested, please connect with us through our website contact form.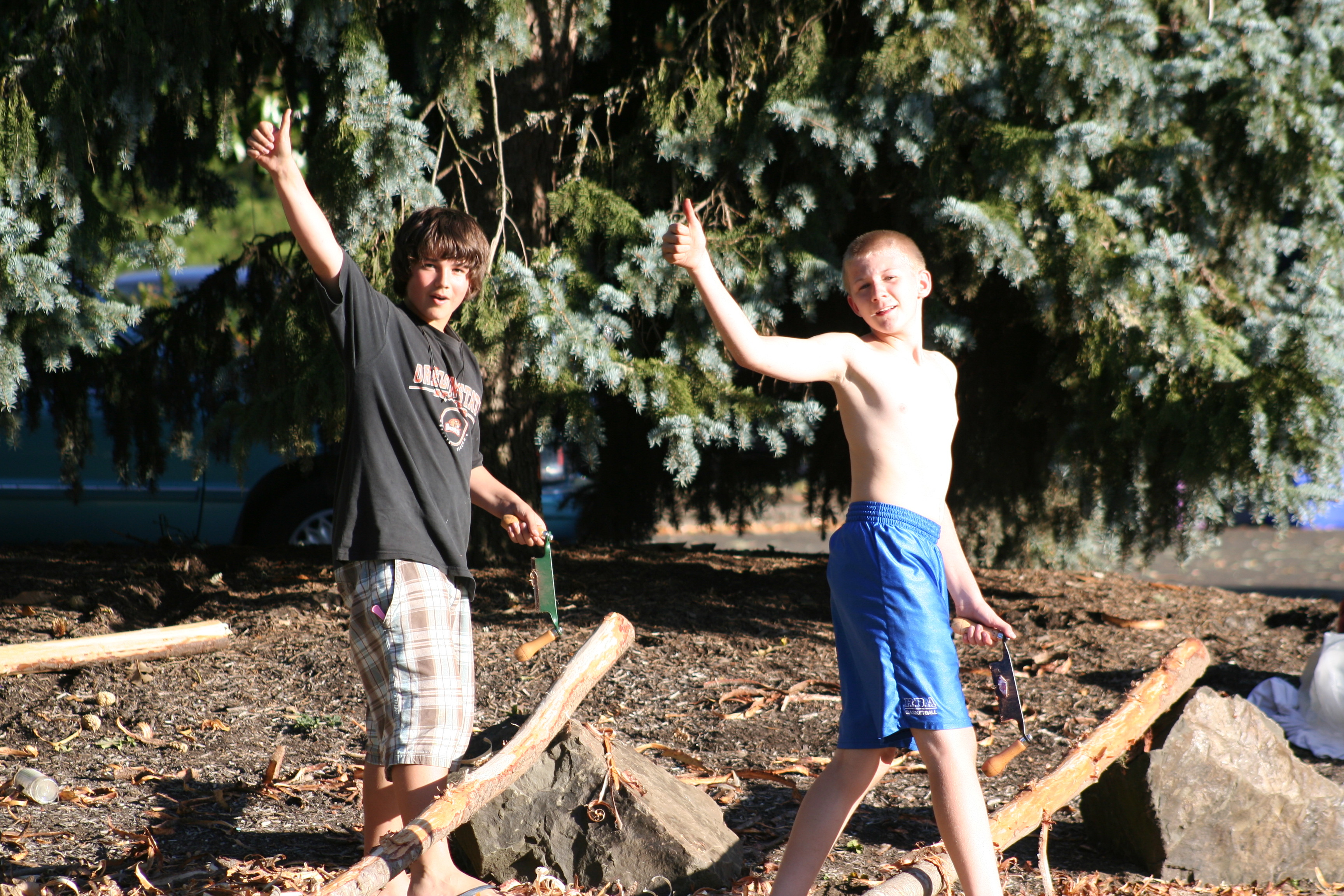 "Never doubt that a small group of thoughtful, committed, citizens can change the world. Indeed, it is the only thing that ever has."
What is a Indigo Child?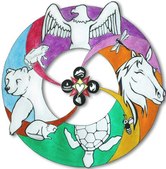 An Indigo Child is an individual that has come to Earth remembering the connection with their divinity and genuinely expressing truth, that shines a light on the darkness of humanity. These revolutionary spirits are here to dissolve what is no longer serving us, while bringing forth new innovations that will set in motion a thriving planet.
As we approach a New Era, the world gives birth to children who bring certain qualities that transform the old and welcome the new! This New Era we are coming into is the next "Golden Age", and a group of souls have come to this planet to be the leaders and role models of initiative and motivation for this New Civilization.
In the late 1960's these souls were first recognized , and now in the 2000's, we are seeing a large percentage of the population resembling the indigo nature. Over the last few decades indigo children have been fighting for their freedom in order to preserve their connection to the divine and blossom into the leaders of a new world.
Circle of Children recognizes their inherent gifts and are providing them a safe space to step into their power and deliver their medicine to the world. These children are being given the tools, wisdom, and opportunities they need in order to create new systems so the planet can transform in a more peaceful way.
Indigo Children have arrived with the essential characteristics to assist in this global transformation. Some of these traits given to succeed in this mission are:
Feeling of Royalty/Belonging
Rebellious of Absolute Authority
Challenging of Broken Systems
Sensitivity to Polluting Influence
The Ability to Sense Dishonesty and Lack of Integrity
Fire that Shatters the Illusions of the World
In this modern society, these attributes can be hard for parents, school systems, and societal power structures to facilitate their healthy growth. These radical and free spirits are commonly misunderstood, given a medical diagnosis, and prescribed pharmaceuticals that are very harmful to their body, mind, and spirit.
Our program is committed to empowering these children and giving them the freedom, love, tools, and wisdom to navigate the world in a way that allows them to flourish.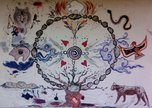 Over the past few months our students have been designing, organizing, and manifesting this residential program and Indigo Medicine Wheel curriculum for themselves and the rest of the Indigo Youth that will be participating. This email is an invitation for YOU! Welcome Home. Join us in this life changing experience and learn many new skills, such as:
Sustainable Living Skills
Alternative Energy Design
Musical Instrument Making
Dances for Universal Peace
Circle of Children operates uniquely as a gift economy, and is a shining example of how humanity can flourish when aligning with the natural cycles of the Earth. All our school programs and events are free and made possible by the global community's support. We offer lodging w/ private rooms, three 100% organic meals daily, and will provide transportation costs if needed.